Shades of Leadership by Thomas Smith
Book: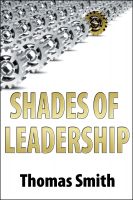 By Thomas Smith
Published by Alternate Publishing
Published: Dec. 17, 2012
Language: English
ISBN: 9781301175352
Short description:
SHADES OF LEADERSHIP is a collection of provocative essays that are relevant for today's leaders.  SHADES OF LEADERSHIP has been honored as a Finalist for the 2013 USA Best Books Awards.  Written with the intention for leaders to help leaders, this book takes an unorthodox look at leadership.   Inside perspective and practical tips are delivered and are meaningful to those interested in being better leaders.  The book is especially relevant to those working with community groups, non-profits, and to improve individual skills and knowledge.  This book provides useful information about critical leadership skills especially important for career development.  Everyone has the opportunity to be leaders each and every day.  This book helps to understand leadership and our ability to become better leaders. Today leadership takes many different forms.  This book helps leaders to be able to envision the future and to convince others that they have the ability and vision worth following.  This book discusses many different ideas about leadership including teamwork, authenticity, collaboration, and character.
"Leaders are not born that way…they are developed through their experiences and their internal work.  What good is an opinion where you don't have a responsibility?  Leadership is practiced in attitude and actions … and results in inspiring achievement.  Don't take yourself too seriously but do take your work seriously."  –Thomas Smith
Paperback:  http://www.amazon.com/Shades-Leadership-Thomas-Smith/dp/1481115804/ref=sr_1_1?ie=UTF8&qid=1359511971&sr=8-1&keywords=shades+of+leadership+paperback+book
Thomas Smith
Biography:
Thomas Smith's dedication, leadership and passion are shown in his thirty plus years of community engagement.  He has leadership experience in civic, social, and community organizations and local, state and federal government. He is a Rotary International Paul Harris Fellow and Benefactor.   He has undergraduate degrees in economics and business administration and graduate degrees in public administration and management.